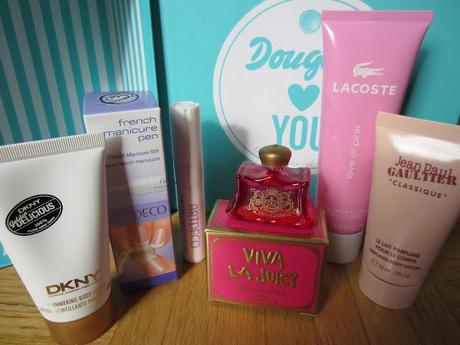 Ein paar Details zum Inhalt - diesmal nur sehr kurz, da ich sehr enttäuscht war und die Box retourniert habe.
DKNY Golden Delicious Shimmering Bodylotion
Der Duft ist ok, aber ich mag keine Bodylotions mit Glanzpartikeln. Leider hatte ich ja richtig getippt mit der Bodylotion obwohl ich auf eine Parfumprobe gehofft hatte.
Lacoste Joy of Pink
Bodylotion
Dieser Duft gefällt mir zwar gut, aber ist für mich auch diesen Monat kein Grund die Box zu behalten. Auch hier habe ich ja richtig getippt - zum Glück war es wenigstens keine Männerprobe.
Jean Paul Gaultier Körperlotion
Gar nicht mein Fall. Ich hasse dieses Parfum, und sobald es jemand trägt halte ich es nicht in einem Raum mit dieser Person aus. Auch hier lag ich mit meinem Tip richtig.
Juicy Couture Viva La Juicy EdP 5ml
Schön, dass wenigstens ein Parfum in der Box enthalten ist, aber das war auch das einzige Produkt was mir gefallen hätten - und nur deswegen die Box zu behalten erachte ich als unsinnig. Obwohl mir der Duft wirklich gefällt.
Artdeco French Manicure Pen
Das Originalprodukt - ja, wusste man ja bereits im Voraus. Auch ein Grund die Box zu retournieren.
Anmerkung:
Liebes Douglas-Team, bitte mehr Abwechslung. Mehr kann ich aktuell nicht sagen - da ich mich mit der Box nicht wirklich beschäftigt habe, da ich sie gleich retourniert habe.
Ausblick:
Douglas verrät ja auf seiner Homepage immer ein Produkt aus der Box für den nächsten Monat. Diesmal wird es ein Shampoo von Philip B. sein (€ 12,-). Darauf freue ich mich sehr - weil ich die Kombination aus Pfefferminze und Avocado sehr interessant finde - und Shampoo mag ich immer sehr gerne als Probe. Nach dekorativer Kosmetik sieht die Box irgendwie nicht - aber ich finde sie vielversprechend.
Hier noch meine Tips für die kommenden Produkte:
Hugo Boss - ich hoffe wie immer auf eine Parfumprobe, vielleicht ja von Boss Orange. Aber wahrscheinlich wird es ein Duschgel oder eine Bodylotion werden.
Yves Saint Laurent - eine Mini-Mascara wäre wirklich toll.
Clinique - hier wird es wahrscheinlich etwas aus der Pflegeserie werden.
Calvin Klein - hoffentlich eine Parfumprobe, aber wahrscheinlich wieder Duschgel oder Bodylotion
Habt Ihr die Box of Beauty auch abonniert?
Wenn ja, wie findet Ihr sie?
Oder gehört ihr zu denen, die sie gerne abonnieren würden, aber leider nicht die Chance dazu haben, weil die Box immer so schnell ausverkauft ist.
Oder seid ihr mit einer anderen Box so zufrieden, dass ihr keine weitere abonniert.
Oder findet ihr den Box-Hype einfach nur übertrieben und schwachsinnig?
Was sagt Ihr dazu, dass die Glossybox den Preis um € 5,- erhöht?